Hansen Anderson Basketball announces the 2022-23 Mr. & Miss Basketball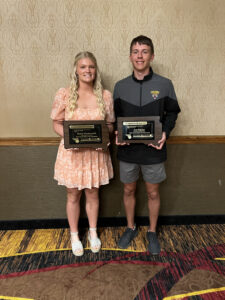 For the forty-sixth year Hansen-Anderson will name Mr. Basketball as selected by the state's basketball coaches.
Each year in South Dakota more than 3,500 young men and women play varsity basketball. Of that group, roughly one thousand four hundred are seniors. Hansen Anderson Basketball recognizes just 23 of these seniors, or about two tenths of one percent who have been chosen by the state's coaches to be considered for the title of Miss or Mr. Basketball. Clearly this is an elite group!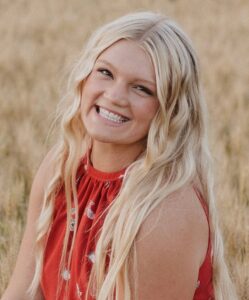 Kami Wadsworth
Hamlin Chargers
Coach: Tim Koisti
Height: 5' 11"
Position: Forward
Key Stats: 22 PPG, 6.3 RPG, 2.3 APG, 56% FG, 82% FT
Team Record: 25-0
Parents: Travis and Michelle Wadsworth
"She is a true leader, who makes everyone around her better.  She was always working hard and getting everyone around her to work hard too.  Whenever she would shoot, she would encourage her team to do the same.  She is always the last one to leave the gym.  What amazes me the most is her hard work this last off season.  We were 2nd in the State, she was First team All-State and she was a really great player, she could've been content with that, but that's not her mentality.  She got in the gym right away, and worked hard to get even better, and her efforts paid off with a State Championship. She is such a great role model. She has set the standard high for all the younger girls that look up to her, and that will positively affect Hamlin basketball for years to come."  - Coach Tim Koisti
As Class "A" Player of the Year Kami led the Chargers to the 2023 Class "A" State Championship after runner-up finishes the previous two seasons. Her hoops honors could fill up pages, but a few highlights include: Basketball 1st team All-State 2021-22, 2022-23, Basketball All-tournament Team Class A 2020-21, 2021-22, 2022-23, 4-Time Basketball First-Team NEC All-Conference , 4-Time Basketball LCC All-Conference, KELOLAND Player of the Year Finalist 2023, Midco Sports Class A Player of the Year Finalist 2023
Kami holds a collection of Hamlin's school records including: Points in a Career with 1,896, Points in a Season at 540, FGM in a Season with 204, FGM in a Career 694, and 3-Point shots made in a game with six. She finished her career with an overall record of 90–8 record as a starter.
A multi-sport athlete, Kami was a 3-Time Volleyball NEC All-Conference,  3-Time Volleyball LCC All-Conference and was the first in Hamlin history to post over 1,000 in both set assists and digs in volleyball going on to record the most set assists in Hamlin school history. She was also a State Track place in the shot put, discus and javelin.
Away from sports Kami served as Student Body Vice President, earned academic award in Psychology, Advanced Math and Algebra II and was an Honor Roll student
Kami's sister Lexi Roe was also finalist for Miss Basketball in 2018.
Kami plans to attend the University of Sioux Falls to pursue a degree in Elementary Education and participate in Basketball and Track and Field.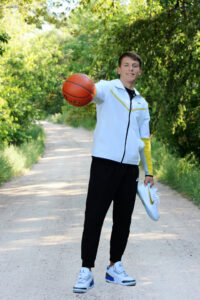 Joseph Sayler
White River High School
Coach: Eldon Marshall
Height: 6'3
Key Stats: 30.8 ppg, 5.6 rpg, 3.7 apg
Team Record: 20-6
Parents: Corey and Katie Sayler
"Joe has accomplished many achievements in his high school basketball career, including six straight State B tourney appearances and this year becoming the 5th all-time leading points scorer in South Dakota basketball history.  Joe is an extremely skilled basketball player but what is most impressive about Joe is not what he has accomplished on the basketball court, but how he conducts himself off it. Joe is a very humble person and I believe his humility is what separates him from others. He understands that there is always more work to be done, there is always room to improve, and there is more to give. He is selfless, and his work ethic is above and beyond any other basketball player I've been associated with.  He interacts great with young kids during our youth basketball camps and he really enjoys making the game fun for them. Joe understands the importance of being a role model and he revels in helping others. He loves being with his teammates, being a friend and sharing his great sense of humor. He has become a great leader to his community, school, and basketball team." - Coach Eldon Marshall
The 5th all-time scorer in SD with 2,702 Career points, Joe posted a 51-point game with thirteen 3-pointers, the second most all time made 3s in one game in SD history. His 105 three-pointers made this season broke Louie Krogman's school record of 102. 
Joe made State tournament appearances in grades 7, 8, 9, 10, 11 and 12. He is the 2023 Spirit of Su Winner. In grades 10, 11 and 12 he was named to the All-tournament team, Western Great Plains MVP, All state 1st Team and KELOLAND Player of Year finalist. Joe  was twice a Gatorade Player of the Year finalist as a junior and senior, was Class B Player of the Year and  Midco Player of the Year as a senior, Argus Leader First 5 team as a junior and also Argus Leader second 5 team as a sophomore. An LNI Champion, he was a 4-time all-tournament team member,  5-time Jones County Tournament (JCT) Champion and 3-time JCT MVP. Joe was team captain as a sophomore, junior and senior.
Joe ranks first in his class with a 4.0 GPA and has been in the National Honor Society since his sophomore year.
Joe will attend South Dakota State University to study Business Economics while playing basketball for the Jackrabbits
These players were nominated by coaches in consideration for the award:
MISS SOUTH DAKOTA BASKETBALL FINALISTS
Hilary Behrens
Brandon Valley High School
Reese Ross
St. Thomas Moore High School
Coral Mason
Viborg-Hurley High School
Brooklyn Harpe
Sioux Falls Washington High School
Olivia Kieffer
Rapid City Christian School
Avery Broughton
Corsica-Stickney High School
Cierra Watkins
Sioux Falls Jefferson High School
Emma Yost
Wagner High School
Denae Mach
Viborg-Hurley High School
Mallory Miller
Wolsey-Wessington High School
Kami Wadsworth
Hamlin High School
MR. SOUTH DAKOTA BASKETBALL FINALISTS
| | |
| --- | --- |
| Damon Wilkinson | De Smet High School |
| Caleb Hollenbeck | St. Thomas More High School |
| Lincoln Kienholz | Pierre T.F.Riggs High School |
| Oliver Vincent | Sioux Valley High School |
| Randy Rosenquist | Dakota Valley High School |
| Taylen Ashley | Sioux Falls Jefferson High School |
| Kaden Year | Sioux Falls Jefferson High School |
| Ethan Bruns | Sioux Falls Christian School |
| Rugby Ryken | Yankton High School |
| Spencer Barr | Aberdeen Central High School |
| Isaac Bruns | Dakota Valley High School |
| Joe Sayler | White River Tigers |